Image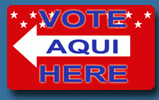 Download

Polling Place Availability Form
Seeking to expand upon an already successful theme of working with local businesses, service clubs, community organizations and schools, the Registrar of Voters Office is launching a new series of programs to be collectively known as Partners in Democracy.
The programs will share the common goal of working with known entities within the county's many communities to bring greater awareness of, and fuller participation in, the voting process.
Currently, the Registrar's office has many such partners which have served their communities well by hosting polling places, providing incentives for employees to serve as pollworkers on Election Day, providing Voter Registration materials, etc. To these valued partners we say, "Thank you for serving as role models for others who will surely follow your fine example."
New among the Partnership programs are: Adopt-A-Poll, which allows for a business, group, or organization to provide a polling location and/or pollworkers on Election Day, Share Your Day…and Your Pay, which allows groups to staff a polling place on Election Day with (trained) pollworkers who agree to donate their stipend to a single non-profit organization and Mentor-A-Pollworker, which pairs experienced Election Officers with first-time adult or Student Pollworkers to help ensure that there is an adequate supply of experienced polling place staff for future elections.

If your company, civic group, service club, etc., is interested in any of these programs, or would like to allow use of your facility as a Polling Place, complete and submit the online application. If you have any questions or would like to know about Outreach Services available through the Registrar of Voters Office, you are invited to contact Larry Smith at (951) 486-7202 or e-mail: ladsmith@rivco.org